| | | |
| --- | --- | --- |
| Up | The John Stewart Collection—Shelf Four | |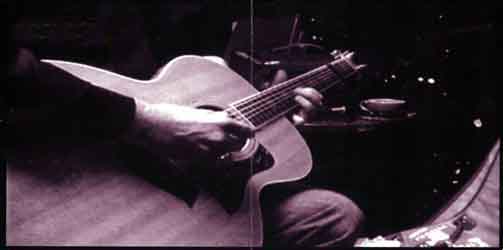 (Image from the inside of the CD insert for Front Row Music—Before the War)
Years of Long Letters from a Good Friend
(1996-2001)
A few years ago, there was something fascinating on the news. We've all heard that "there's nothing new under the sun," right? This was about three minutes of film of an island being born—an absolutely new place being given to us. It was incredible. The ocean got restless and agitated right before it boiled...steam and then smoke rose from the sea.
What came next made all that look small. Fire started shooting up out of the water. Viscous fire. And through the steam and the smoke and the heat waves you could see something start to rise up above the surface. Lava would leap into the air and then fall back and regather and slowly swell higher, and after gaining enough strength within itself it would explode again. Each time the cycle recurred, this brand-new island would get a little bigger and a little higher.
And then it started all over again, a little further out.
Sound familiar?
John Stewart seems to go through a similar series of cycles. After every new peak he builds—whether it be the chart success of the late seventies, the studio and live high-water marks of Punch the Big Guy and Neon Beach, or the later carefully crafted song sequences on Bullets in the Hour Glass and Bandera—there will be a short lull, and then the waters start to surge again. We have learned to watch for hints in the letters...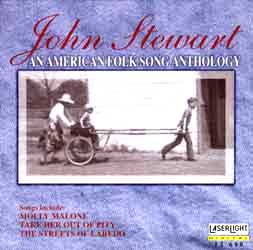 An American Folk Song Anthology

1996 Laserlight Records release on compact disk
Produced by John Stewart

(Cover image is from the CD cover insert)

You can often see the first slow signs when Mr. Stewart goes back to his folk roots. We've always had a sense that he doesn't just go back to the music. His new versions of old songs, whether his own, or his own arrangements of traditional numbers are always so mannered, and re-thought and informed that one has to wonder if he starts out spending as much time in libraries—and on mountains—as on the fretboard.

Laserlight records released a 3-CD box set in 1996. It had two previously-issued albums, The Last Campaign and The Trio Years, and one brand-new—this one. Anthology is nothing less than a quiet "tour-de-folk" from a careful student of the genre, who knows that the real music of the people of this strange place has come out of shacks and hogans, and sagging back porches and wagon wheel-rutted trails and gravel roads and broken hearts that didn't know the meaning of "quit."

We probably shouldn't need to be reminded that the notes we wake up with, in our heads (at least on the really good mornings), come with the smells of dust and buffalo chips, sweat and whiskey—and the sounds of creaking sails and groaning saddle cinches and tears dropping onto denim and calico, gingham and flour sacking... Still...

"Roots" music. George Clooney movies. Sometimes it seems that our national focus of attention has gotten a little lazy. Do we really need a PBS Special or five mentions on Entertainment Tonight for something to be real and valid? This is our own common attic, after all. Our history and collective memories have been informed by music. It is very doubtful that we would have made it this far as a people without pianos. How big is our debt to those lonesome pickers in the hollows at the end of foot paths, and Buddy Bolden, and James P. Johnson and Jelly Roll and Fats and Robert Johnson and Woody and The Weavers? Did the primitive guitars and banjoes and rhythm instruments and the people singing in parlors and public squares before electric wires laced the land help to hook together the boxcars of this train we're still riding? Could we have gotten to our individual and common heights without the back-room radio stations whose call letters started with "W," and the Grand Old Opry, and the Funky Butt Ballroom? How much of the Great American Collective Unconscious has a soundtrack? Ever wonder about this stuff... ?

We're pretty sure we know at least one other guy who has. Fortunately he does more than that. Sometimes he sits down by himself and stacks his stringed instruments around him and thinks about it as only a plainspoken poet with remarkable fingers and a pure and informed love of the nation can do. It doesn't hurt to have Buffy Stewart bringing you tea and sticking around to sing along on a few, either.

If you have a CD changer, give yourself a gift some long day when you have some quiet work to do. Go to your collection, or your library, or your friends, and pull together some of the folks mentioned here, or the artists next to them on the shelf in the categories. Slip this one in at random and go about your business, with the volume set a little below intrusive. It will not be surprising, at least in these quarters, if you suddenly come back to yourself, somewhere around "Take Her Out of Pity" or "Paddy Works on the Railroad," and realize you've been somewhere off in the faraway for a pretty fair while, thinking and feeling things you thought you'd lost.

Really...

The songs:

1. Medley: Old Riley, Pick a Bale o' Cotton, Sail Away Ladies
2. Pretty Peggy-O
3. Rider
4. The Streets of Laredo
5. John Hardy
6. Take Her Out of Pity
7. Corrina, Corrina
8. Bay of Mexico
9. East Virginia
10. Molly Malone
11. Paddy Works on the Railroad
10. Ain't No More Cane on the Brazos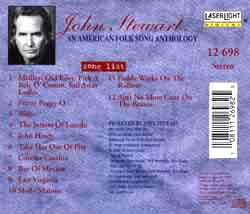 (The image is from the back cover of the CD)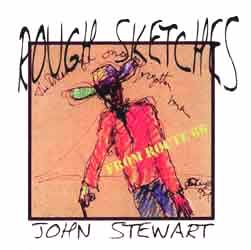 Rough Sketches from Route 66

1997 Folk Era Records release on Compact Disk
Produced by John Stewart

(Cover image is from the CD cover insert)

All right, kind reader—we figure that you wouldn't have gotten this far if you weren't at least a little interested in this sort of thing. So we're going to tell you a well-hidden secret and give you a beautiful thing.

CD changers were mentioned just above. If you have one, load it up with the contents of this shelf, in sequence (and leaving Havana out for now) on another of those long days of quiet work in the room with the speakers. Ours has 10 slots, and that makes a perfect fit, with room left over for a couple of "free" choices. If yours has fewer, you'll have to reload. Get 'em from your shelves, get 'em from the library, get 'em from really good friends, get 'em from us or somebody else—it doesn't matter. Fire the stacker up and go about your business...and see what happens.

Here's the secret. You won't be able to tell when one album ends and another begins without concentrating. Ditat Deus. So does this Joe Foss of the gut and steel heartstrings of America—The Ace of this Place. The stream of conscience flowing out of the speakers gets bigger and smaller and older and newer but it never misses a shift. A lot of it is Brother John all alone in a room somewhere, playing every instrument—showing us songs that are daguerreotypes and fully realized paintings, and charcoal elementals smudged with a guitar pick—and group pictures in a studio, with friends and companions in historical costume, and denim and lace and buckskin and tails. This shelf is seamless—it's all really one big album.

For most artists who aren't Randy Newman or Van Morrison, that would mean that this is about ten hours of the same song written 50 or 60 times. That's the beautiful thing. We've given you the frequency for Radio Free Stewart, and you never know just what the heck is going to be put on the airwaves next—only that it will fit with what comes just before and after through some magic of contrast and synchronicity—and it will make you bigger inside your self. We've heard that our quiet hero, Dave Batti, once said something like "John Stewart never plays a song the same way once." Maybe that helps.

The man himself said, in the liner notes, "Rough Sketches is exactly as the name indicates. These are rough sketches of songs written on and many about Route 66. Most of them are for a musical I've written called 'Johnny Flamingo on the Blue Dream Road.' It's about a man who reinvents himself and goes looking for his innocence and America on the Mother Road. Played all the instruments except the drums. They're a Roland machine. Buffy joins me on 'Interview With an Angel' as she does in the stage show. As an artist's sketch book these may vastly change over time or remain the same. I often prefer the sketches to the artist's final work. You may too."

We don't really agree. Sketches are incomplete. Musical sketches don't come with visuals and the sound of pavement stretching in the sun, and a smell track. Sketches don't make you suddenly realize that the song that has stopped you in your tracks without noticing the pause—with its beauty and completeness and maturity—seems to be partly about life forms with heads like inverted triangles and oval eyes...

When you hear this come out of your speakers right after American Folk Song Anthology, you will realize that the Honest-to-God-Love-Us American music—the stuff that runs through that overlooked channel in our collective head that the pollsters and opinion makers are always chasing and will never catch—the great, unseen psychic National medium of social exchange that gives us "Killroy was here" doodles appearing out of nowhere on boxcars and the sides of tanks, and the Great Speckled Bird, and Aggie jokes (in whatever ethnic or other stereotypical form) and the unseen phase changes and paradigm shifts that we all wake up with on those mornings when the magic animal of us says "OK! That's enough!"—that the pure stuff we all own because somebody like Woody Guthrie or Odetta or Josh White or John Stewart or Leadbelly or Arthur Unknown gave it to us, is always incomplete because it just keeps getting bigger and better. And that's what makes it—and us—whole...for today at least. And for tomorrow? ...Maybe we'll work on sentence structure. Anyway...

They're already complete of course, whatever he thinks.

On the other hand...if he decides to fill in these sketches, a lot of us will drive all night to get there...

The songs:

1. Spirit of the Road
2. Neon Road
3. Johnny Flamingo on the Blue Dream Road
4. The Dogs of San Jon
5. Angel Delgadillio
6. Cadillac Ranch
7. Interview with an Angel
8. Because of a Dancer
9. Evangeline (alt. version)
10. Mac Brassel's Farm
11. The Road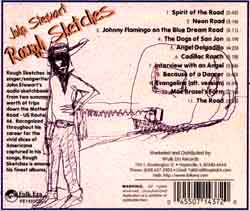 (The image is from the back cover of the CD)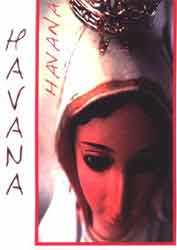 Havana

1998 Neon Dreams Music release on cassette
Produced by John Stewart
(Cover image is from the cassette cover insert)
This was another of the "private label" cassettes that were produced for a tour of the United Kingdom and never made it into general distribution.
There were simply no copies, in any state of repair, available in the international music exchanges. That might just tell you something. It didn't mean that some of us didn't keep right on looking...
Then it was torn apart and stripped down and ported and polished and bolted on top of a new frame and oversized tires and a tankful of nitro. The word came of a CD, five years later, with the same name. We marked time, expecting that it was going to be another of those seismic wonders that pushes the island higher. He was due...
Boy, did he deliver. It was not a "re-release." It was, more accurately, a new interpretation of eleven of the songs on the cassette, plus four additional and very special tracks. For this reason, it was been given its own place on the shelves, and its own commentary. It was, indeed, another seismic wonder.
The songs:

1. Turn of the Century
2. Dreams of the Starman
3. Davey on the Internet
4. Who Stole the Soul of Johnny Dreams?
5. Waiting for Castro to Die
6. One-Eyed Joe
7. Dogs in the Bed
8. Rock and Roll Nation
9. Miracle Girl
10. Rally Down the Night
11. I Want to be Elvis
12. Wilderness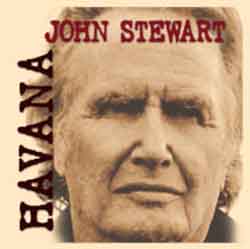 (Image is from the cover insert for the 2003 CD release)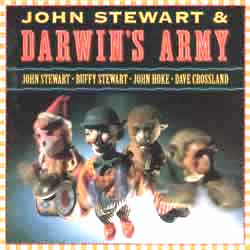 Darwin's Army

1999 Appleseed Records release on compact disk
Produced by John Stewart, John Hoke and Buffy Stewart
(Cover image is from the CD cover insert)
Photography by Tam Nguyen, Henry Diltz and Matt Smith
Darwin's Army slides smoothly under the the laser "needle" after Rough Sketches and then immediately hands us one of the best songs of the decade. John Hoke should be lounging next to his own swimming pool off the royalties from "Dreamland." Behind something with about five or six bathrooms.
What in the heck has happened to American radio? What has sealed the doors to the studios so tight that they're rebreathing the same air in there over and over again and leaving a song like Dreamland out on the sidewalk behind a guitar case full of change? Where are the disk jockeys who locked the door on the program director and told us about the really good stuff and then played it hard to make sure we'd get in the car and go to the record store? Why are all these sentences ending with question marks? Anyway...
In a way, this one also dials the clock back 16 years to Revenge of the Budgie, just like Budgie dialed the clock back 16 years to renew the collaboration between Mr. Stewart and Mr. Reynolds. Think about that for a minute...
It's the entry for joyous, full-throated folk music in the sequence we're pursuing on this shelf. And that doesn't necessarily mean loud. Sure, some of it is kick-out-the-jams, bring-out-the-banjo, full-throttle close harmony. But some of it also sneaks up on you with all of the wistfulness and care that the music created by real people, some of them from a long time ago in Scotland, has always carried to us in its hands.
The songs:

1. Dreamland
2. My Back Pages
3. Darlin' Corey
4. Wild Mountain Thyme
5. Bay of Mexico
6. Don't It Make You Want To Go Home
7. Blood in the Fields
8. Reason to Believe
9. Boy in the Bubble
10. Santy Anno/Coal Tattoo
11. Silver Wings
12. Twelve Gates to the City
13. They Call the Wind Mariah
14. Goodnight Irene
15. Somewhere Over the Rainbow
(The image is from the back cover of the CD insert)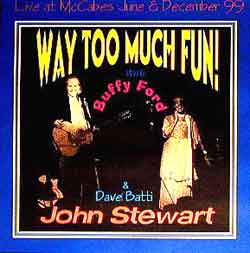 Way Too Much Fun

2000 Neon Dreams Records release on cassette
Produced by John Stewart

(Cover image is from the CD cover insert)
Photography by "Roadman" Howard

And the laser moves smoothly from the Darwin's Army studio sound of John Stewart, Buffy Ford, Dave Crossland and John Hoke to the Way Too Much Fun live and largely unedited sound of John Stewart, Buffy Ford and Dave Batti on a couple of nights six months apart on the stage at McCabe's in Santa Monica.

...Too Much Fun starts with a live treatment of a song we heard a couple of albums earlier in the changer, and then proceeds to mine the lode of Mr. Stewart's songs all the way back to the seventies, and bring one after another of those deeply glowing nuggets out for a look at the Twenty-First Century. What is the adjective between "priceless" and "amazing?" Songs from over the course of 30 years, including some that fell out of a box in Michigan, come together perfectly with one or two new ones.

Mr. Stewart had this to say: "We recorded this CD on two separate nights, when the shows just seemed to flow, even when things with the equipment were turning on us. The December show was recorded on an eight track but the June show was recorded on dat tapes so there was no chance of remixing. I added some goodies in the studio just so it wouldn't sound like a bootleg. I've had requests from fans to leave all the between songs banter on the next live CD. Some actually wanted ONLY the between song nonsense. I've left everything on this CD except for some hideous guitar tuning. I think the saving grace for releasing material from these two gigs is that all of us were really having Way Too Much Fun."

That's good enough for us.

The songs:

1. Johnny Flamingo
2. Ticket to the Stars
3. Long Train of Dreams
4. Under Heavy Fire
5. Across the Milky Way
6. Davey on the Internet
7. Always Young
8. Cowboy in the Distance
9. Blonde Star
10. Fire in the Wind
11. Wild Side of You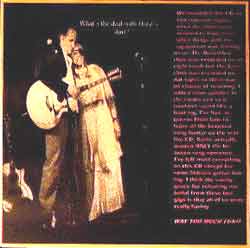 (The image is from the back cover of the CD insert)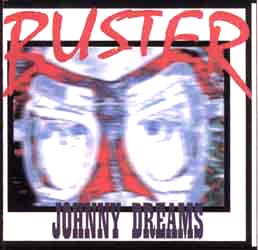 Buster

2000 Neon Dreams Records release on compact disk
Produced by John Stewart

(Cover image is from the CD cover insert)

Right about here is where we started wondering if those were just slow rollers, or if steam was dancing on the water again...

Buster is one of those "All John" albums, where his process and thought stream are shared with his fans—and those lucky enough to know one of them.

The three albums that begin with Buster can easily be compared to the stretch of the Eighties that gave us Trancas, The Secret Tapes, Centennial and The Trio Years before Punch the Big Guy quietly blew out our windows and sparks lit up the stage at McCabes three years later. They can also be compared to the stretch of the early Nineties between Bullets in the Hour Glass and Bandera, when Mr. Stewart was sharing Teresa and Rocket Roy and Escape to Arizona with those who loved him best, using the cassette players that had moved up into dashboards as a medium of exchange. As noted earlier, this whole shelf amounts to a moving thing...a sharing of an artist's thought stream of such depth and uniqueness and crisp honesty that those who give it their full attention can find themselves feeling like they've been breathing the air on a 20-below midnight cross-country trail through tall evergreens...and resolving to be a little more worthy of the trust. But Buster was extra special.

Seven out of the ten songs on Buster were brand new releases. Two were from the cardboard cavern of TBTAMC, one from Way Too Much Fun.

It is hard to find words good enough for the levels the lyrics and musicianship reach as one listen leads to another. Sure, they are mature, carefully crafted, fresh, informed, sometimes heart-wrenching and sometimes foot-tapping. But the only inadequate metaphor we can conjure is baklava. BAKLAVA? Yep, eaten with a fine-tined fork—during a conversation with an old and precious friend in front of a fire in a restaurant room that you get to through a couple of other spaces, with a smiling somebody in an apron that keeps bringing strong and fragrant coffee but doesn't clear the table to make you leave—enjoyed one layer at a time, getting better the deeper you explore...

Pastry can be good for the mind and soul, you know. Even food for thought.

The songs:

1. The Field Where the Angels Dance
2. Meteor Man
3. High Flying Eagle
4. A Walk on the Moon
5. Renegade Rising
6. Cowboy in the Distance
7. The Dilly Monkeys
8. The Waltz of the Crazy Moon
9. Wide Eyed in Babylon
10. Endless Roads and Northern Lights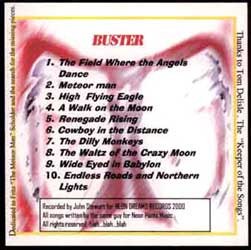 (The image is from the back cover of the CD)
The 2000 Neon Dreams Records CD release of Buster is now out-of-print.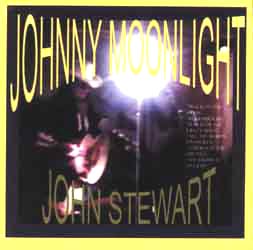 Johnny Moonlight—
Waltz of the Crazy Moon

2000 Neon Dreams release on compact disk
Produced by John Stewart

(Cover image is from the CD cover insert)

Mental movies. They're probably a leftover from those late childhood moments under chestnut trees when somebody said "Wouldn't it be cool if..." and somebody else said "Yabut it'd be even better if..." and somebody else said "Nonono, John Wayne turns to Robert Mitchum and says..." And we would write a little play in our heads in the last shadows of a fading day.

A couple of us have shared one about John Stewart sitting down at a kitchen table, on a similar evening shortly after the turn of the century, and emptying the metaphorical chestnuts and found objects out of the pockets of an old work jacket and laying them out and starting to move them around... There's even internal dialogue. "Ok, those are about right, but maybe the order could be a little better...How about if I move this one over here, nope, that doesn't say it the way I want to... Well, I've got those special ones saved in the pocket of that old leather job, what if I shuffle those in here and here... HMMMM... "

If that all sounds impossibly presumptuous, please remember, kind reader, that this is the man who has already shared huge chunks of his creative process and musical thoughts for twenty years plus. We can have our fantasy, ok?

Johnny Moonlight—Waltz of the Crazy Moon actually does alternate five more newly released songs with four from Buster (that are virtually indistinguishable from the Buster versions) and one each from those periods of deceptive quiet between public releases in the early Eighties and Nineties...

The songs:

1. All the Words Unspoken
2. Cowboy in the Distance
3. Remember Me
4. Waltz of the Crazy Moon
5. All the Lights
6. Walk on the Moon
7. Sparkle on the Monkey Train
8. The Fields Where the Angels Dance
9. Timeless World
10. Looking Back Johanna
11. Highway of Light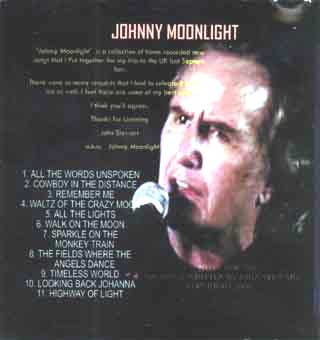 (The image is from the back cover of the CD)
The 2000 Neon Dreams CD release of Johnny Moonlight—Waltz of the Crazy Moon is now out-of-print.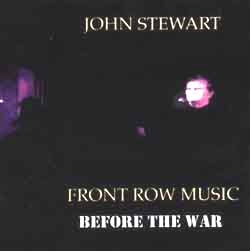 Front Row Music—
Before the War

2001 Neon Dreams Recordings release on compact disk
Produced by John Stewart

(Cover image is from the CD cover insert)
Photo by Gillian Walker
Design by Paul Rybolt and John Stewart

Five or six or seven years of new material...plus newly rethought songs from before...artistry drawn from that lonely place where creation begins...

You would expect him to put them out there into the general seen, right? Well, not exactly... First he put them through the foundry of live performance.

What must it feel like for an artist named Stewart—one who brings things into the world that have never been here before—one who works out on that desperately thin ledge where risk and commitment and the muses collide with the "real" world—to take these precious and fragile things to Scotland and Britain and lay them out in the presence of the old things of those lands and strangers?

We'll never know. Who deserves to know?

Heck, who deserves to have this man put two CD's worth of partial answer in their hands?

Evidently we do.

And you don't think you're something special?

He does.

The songs:

Disk One
1. Homeward Looking Bird
2. High Flying Eagle
3. Same Old Heart
4. Cheyenne
5. Chasing Down the Rain
6. California Bloodlines
7. Irresistible Targets
8. All the Words Unspoken
9. Dreamers on the Rise
10. All the Lights
11. Cannons in the Rain
12. The Eyes of Sweet Virginia
13. The American Way
14. Runaway Train

Disk 2
1. Starborn Chariot
2. Freeway Pleasure
3. All the Desperate Men
4. The Last Hurrah
5. Some Kind of Love
6. Sweet Dreams
7. The Fields Where the Angels Dance
8. Walk on the Moon
9. Night of a Distant Star
10. Strange Rivers
11. Run to the Cross Roads
12. Fire in the Wind
13. Reasons to Rise
14. Medley—
Looking Back Johanna
Missouri Birds
Cowboy in the Distance
If You Should Remember Me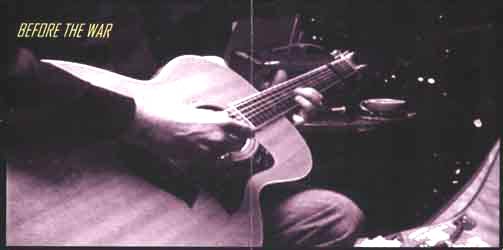 (The image is from the inside of the CD cover insert)
The 2001 Neon Dreams Recording CD release of Front Row Music: Before the War is now out-of-print.

Click here to continue with the albums between 2002 and the present.
Click here to return to the Record Shelves.

Click here for links to
discographies, biographies,
interviews, art by John Stewart
and a whole lot more (in the upper right panel).